Materials laboratory
We provide comprehensive support in the detection and verification of material and material properties.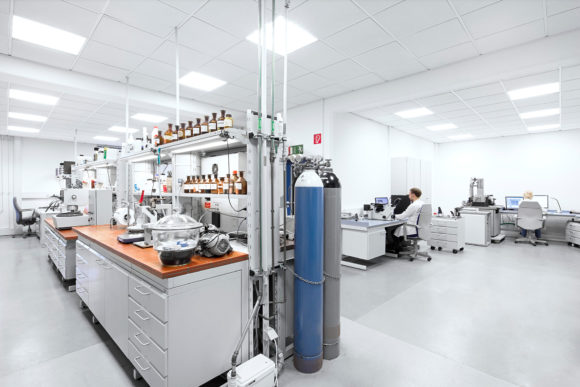 We test your materials and products for their properties. For this purpose, we use various destructive and non-destructive testing methods. For example, we use visual inspection, radiographic testing, ultrasonic testing, magnetic particle testing, penetrant testing, transverse tensile testing, chemical analysis, bending testing, notched bar impact testing, fracture testing, hardness testing, tensile testing, macrosection testing and microsection testing.
Test method
We carry out development-accompanying and production-accompanying testing for all sectors - and thus support our customers in several industries, including the energy sector, rail technology, automotive, aviation and shipping.
Do you have special requirements? We develop individual test procedures for you. Our extensive testing equipment in our environmental and fire laboratories enables us to support you beyond the standard specifications, meeting your individual needs. This means that we can also provide you with comprehensive and competent advice on technical innovations, innovative material compounds and information on the scope of conventional tests.
Mechanical-technological testing
We perform mechanical material tests to investigate static mechanical material properties such as strength properties and elongation behaviour. Our repertoire includes tensile tests as well as compression tests to test the tensile strength, yield strength and elongation of a material. In addition, tests such as stationary (according to Rockwell, Brinell and Vickers) and mobile hardness testing (according to the UCI method) are part of our extensive range of services. We examine the toughness of your material with notched bar impact tests. We offer these for materials with an impact energy of up to 150J and temperatures from RT to -40 °C. For welding or brazing proximity tests and the examination of your material for intergranular corrosion, we subject your sample to a bending test.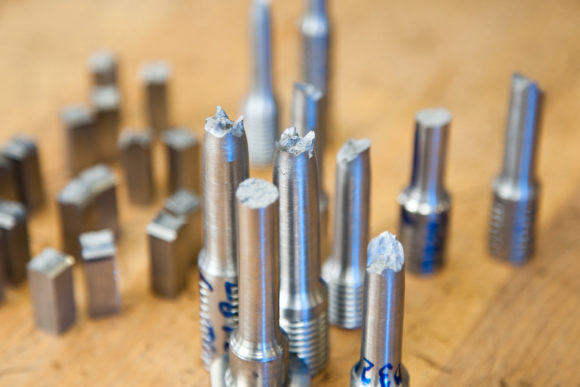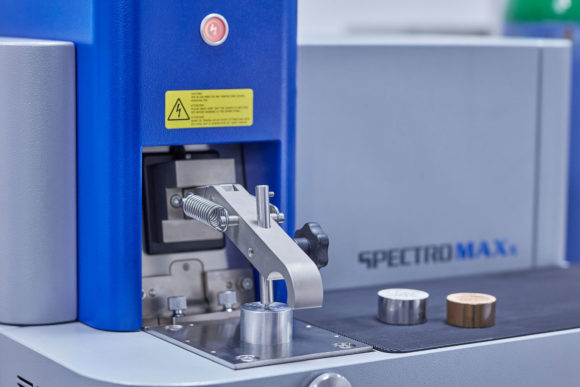 Chemical analysis
We use the emission spectroscopy method to determine the chemical composition of iron-, aluminum- and copper-based materials. Furthermore, we can determine the content of carbon and sulfur in cast iron by means of combustion.
Non-destructive material testing
RST is the right contact when it comes to non-destructive material testing (NDT for short). We offer non-destructive material testing for all common NDT methods, from X-ray testing, ultrasonic testing and magnetic particle testing to dye penetrant testing and visual inspection - stationary or mobile throughout Germany.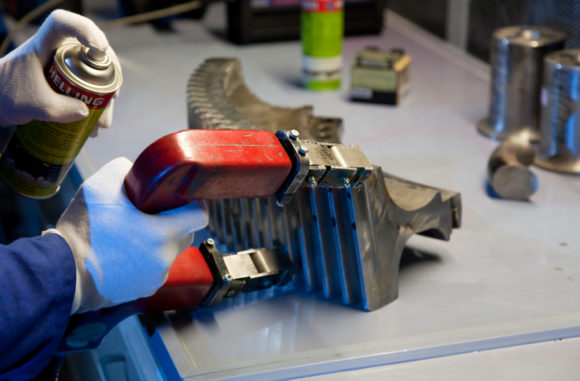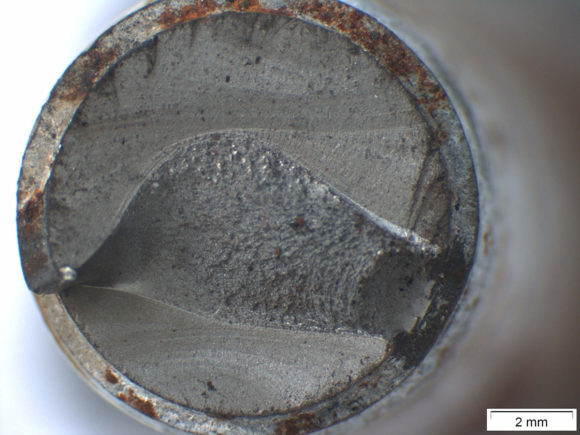 Damage analysis according to VDI 3822
Our accredited laboratory offers comprehensive damage analyses - for manufacturers, the insurance industry and trade alike. With systematic damage analysis based on material-technical examinations, we get to the bottom of causes of damage and material fatigue. We differentiate between misuse, assembly and material defects.
Metallographic examination
In our laboratory we offer metallographic examinations. They serve the qualitative and quantitative description of the material structure. With the help of microscopic methods, we can also identify geometric parameters of metallic materials.
By means of reflected light microscopy with digital image documentation, we can perform quantitative microstructure evaluations such as the determination of phase fractions, grain sizes, layer thickness and inclusions as well as graphite classification.
In addition, we offer stereomicroscopy with digital image documentation to perform macrosection weld evaluations, macrofractographic fracture surface examinations, and macroscopic examinations of components from the store floor.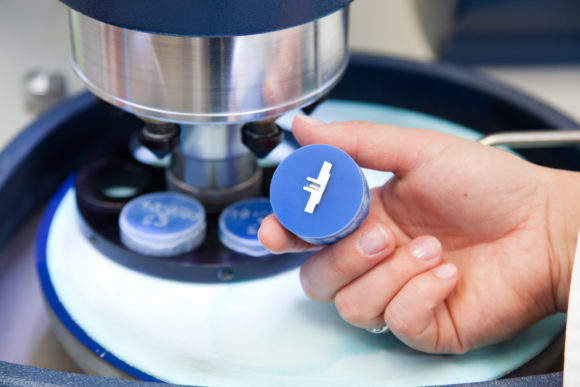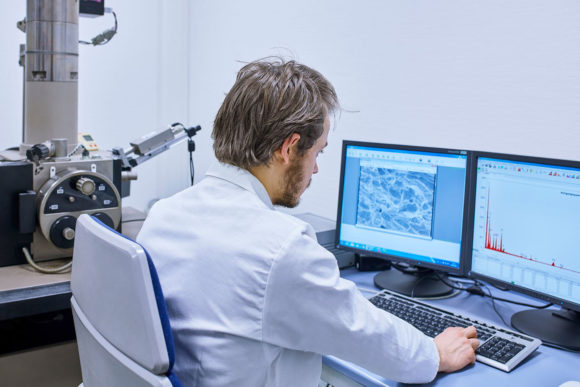 Scanning electron microscopy
Scanning electron microscopy enables us to examine surfaces with regard to their wear, corrosion and microfractographic fracture surfaces. We distinguish between toughened, brittle fracture and enamel surfaces, among others. In the scanning electron microscope, we can perform micro-area analysis of surface layers, coatings and particles using EDX.
Testing of fasteners
Screws, nuts, washers, bolts, etc. are "fasteners" that require specific testing. We determine the strength of high-strength screws or the chemical composition of stainlessnuts.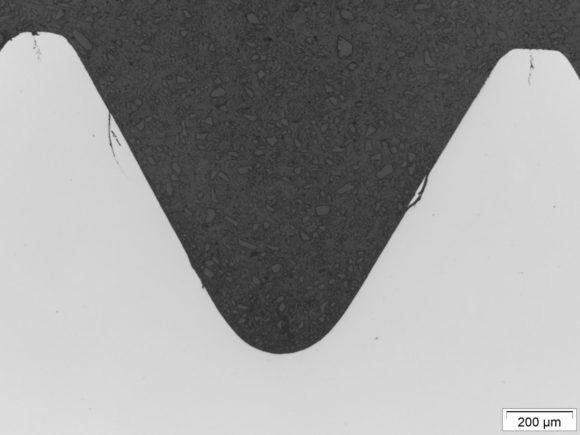 ---
Just what you need.
RST is your competent partner for the testing you need.
Purchasing
Our optimized processes guarantee you fast and smooth processing of your order without long wait times. Your request is our top priority. Our wealth of experience is based on countless test orders successfully completed for a wide range of customers. Our in-house test rack production as well as our in-house calibration laboratory ensure the highest flexibility and cost efficiency.
Project management
With our technical support, we are always at their side - even in the event of unexpected changes to the planned test sequence, necessary rework and adjustments to the test specimen, and under deadline.  During the test, you can rely on optimal communication with our testers and engineers. We always keep you up to date and contact you quickly in case of problems or damage to the test object. You are welcome to accompany your tests personally on site or via video transmission.
Quality management
RST is available to you as an accredited laboratory. Our competent and experienced test staff, equipped with comprehensive knowledge of standards and test requirements, are prepared for any challenge. Within the framework of our flexible accreditation, we develop individual test procedures for you outside of the standard specifications and are available to advise you the entire time. We deliver high-quality test reports in German and English.
The standard you are looking for?
We test for you!
STANDARD SEARCH
For hardness testing (stationary)
| | |
| --- | --- |
| DIN EN ISO 6506-1 | Metallic materials – Brinell hardness test – Part 1: Test method |
| DIN EN ISO 6507-1 | Metallic materials – Vickers hardness test – Part 1: Test method |
| DIN EN ISO 6508-1 | Metallic materials – Rockwell hardness test – Part 1: Test method |
| DIN EN 10328 | Iron and steel – Determination of the conventional depth of hardening after surface heating |
| DIN EN ISO 2639 | Steels – Determination and verification of the depth of carburized and hardened cases |
| DIN 50190-3 | Hardness depth of heat-treated parts; determination of the effective depth of hardening after nitriding |
---
For hardness testing (mobile)
| | |
| --- | --- |
| DIN 50157-1 | Metallic materials – Hardness testing with portable measuring devices operating with mechanical penetration depth – Part 1: Test method |
| DIN 50159-1 | Metallic materials – Hardness testing with the UCI method – Part 1: Test method |
| DIN ISO 48-4 | Rubber, vulcanized or thermoplastic – Determination of hardness – Part 4: Indentation hardness by durometer method (Shore hardness) |
| DIN EN ISO 16859-1 | Metallic materials – Leeb hardness test – Part 1: Test method |
---
For pendulum impact test
| | |
| --- | --- |
| DIN EN ISO 148-1 | Metallic materials – Charpy pendulum impact test – Part 1: Test method |
---
For welding procedure test
| | |
| --- | --- |
| DIN EN ISO 15613 | Specification and qualification of welding procedures for metallic materials – Qualification based on pre-production welding test |
| DIN EN 15614-1 | Specification and qualification of welding procedures for metallic materials – Welding procedure test – Part 1: Arc and gas welding of steels and arc welding of nickel and nickel alloys |
| DIN EN 15614-2 | Specification and qualification of welding procedures for metallic materials – Welding procedure test – Part 2: Arc welding of aluminium and its alloys |
| DIN EN ISO 5817 | Welding – Fusion-welded joints in steel, nickel, titanium and their alloys (beam welding excluded) – Quality levels for imperfections |
| DIN EN ISO 10042 | Welding – Arc-welded joints in aluminium and its alloys – Quality levels for imperfections |
| DIN EN ISO 9016 | Destructive tests on welds in metallic materials – Impact tests – Test specimen location, notch orientation and examination |
| DIN EN ISO 4136 | Destructive tests on welds in metallic materials – Transverse tensile test |
| DIN EN ISO 5173 | Destructive tests on welds in metallic materials – Bend tests |
| DIN EN ISO 9015-1 | Destructive tests on welds in metallic materials – Hardness testing – Part 1: Hardness test on arc welded joints |
| DIN EN ISO 9015-2 | Destructive tests on welds in metallic materials – Hardness testing – Part 2: Microhardness testing of welded joints |
| DIN EN ISO 9017 | Destructive tests on welds in metallic materials – Fracture test |
| DIN EN ISO 17639 | Destructive tests on welds in metallic materials – Macroscopic and microscopic examination of welds |
| DIN EN ISO 17635 | Non-destructive testing of welds – General rules for metallic materials |
| AD 2000 – Merkblatt HP 5/3 | Manufacture and testing of joints – Non-destructive testing of welded joints |
---
For cable pull testing
DIN EN IEC 61238-1-1 (VDE 0220-238-1-1)
Compression and mechanical connectors for power cables – Part 1-1: Test methods and requirements for compression and mechanical connectors for power cables for rated voltages up to 1 kV (Uₘ = 1,2 kV) tested on non-insulated conductors
– only chapter 7: mechanical tests
DIN EN IEC 61238-1-2 (VDE 0220-238-1-2)
Compression and mechanical connectors for power cables – Part 1-2: Test methods and requirements for insulation piercing connectors for power cables for rated voltages up to 1 kV (Uₘ = 1,2 kV) tested on insulated conductors
– only chapter 7: mechanical tests
DIN EN IEC 61238-1-3 (VDE 0220-238-1-3)
Compression and mechanical connectors for power cables – Part 1-3: Test methods and requirements for compression and mechanical connectors for power cables for rated voltages above 1 kV (Uₘ = 1,2 kV) up to 36 kV (Uₘ = 42 kV) tested on non-insulated conductors
– only chapter 7: mechanical tests
---
For tensile test
| | |
| --- | --- |
| DIN EN ISO 6892-1 | Metallic materials – Tensile testing – Part 1: Method of test at room temperature |
---
For specimen manufacture
| | |
| --- | --- |
| DIN 50125 | Testing of metallic materials – Tensile test pieces |
---
For bend testing
| | |
| --- | --- |
| DIN EN ISO 7438 | Metallic materials – Bend test |
---
For chemical analysis
| | |
| --- | --- |
| In-house procedure (P-504-01-40) | Spectrometric analysis of iron, aluminium and copper |
---
For chemical analysis of coatings
| | |
| --- | --- |
| In-house procedure (P-504-62-40) | Elemental analysis by means of energy dispersive X-ray spectroscopy |
---
For carbon and sulphur determination in founding
| | |
| --- | --- |
| In-house procedure (P-504-57-40) | Carbon and sulphur determination by infrared adsorption |
---
For SEM
| | |
| --- | --- |
| In-house procedure (P-504-61-40) | Scanning electron microscopic examination of surfaces |
---
For spring testing
| | |
| --- | --- |
| DIN 2096-1 | Helical compression springs made of round wire and rod; Quality requirements for hot formed compression springs |
---
For visual inspection (VT)
| | |
| --- | --- |
| DIN EN 13018 | Non-destructive testing – Visual testing – General principles |
| DIN EN 1370 | Founding – Examination of surface condition |
| DIN EN ISO 17637 | Non-destructive testing of welds – Visual testing of fusion-welded joints |
---
For ultrasonic testing (UT)
| | |
| --- | --- |
| DIN EN ISO 16810 | Non-destructive testing – Ultrasonic testing – General principles |
| DIN EN ISO 17640 | Non-destructive testing of welds – Ultrasonic testing – Techniques, testing levels, and assessment |
| DIN EN ISO 11666 | Non-destructive testing of welds – Ultrasonic testing – Acceptance levels |
| DIN EN 10228-3 | Non-destructive testing of steel forgings – Part 3: Ultrasonic testing of ferritic or martensitic steel forgings |
| DIN EN 12680-1 | Founding – Ultrasonic examination – Part 1: Steel castings for general purposes |
| DIN EN 12680-2 | Founding – Ultrasonic examination – Part 2: Steel castings for highly stressed components |
| DIN EN 12680-3 | Founding – Ultrasonic testing – Part 3: Spheroidal graphite cast iron castings |
| DIN EN 10160 | Ultrasonic testing of steel flat product of thickness equal to or greater than 6 mm (reflection method) |
| DIN EN 14127 | Non-destructive testing – Ultrasonic testing – Characterization and verification of ultrasonic thickness measuring equipment |
| In-house procedure (P-504-42-40) | Measurement of tension, preload force and elastic elongation on bolted joints by means of ultrasonic transit time measurement |
---
For radiographic testing (RT)
| | |
| --- | --- |
| DIN EN ISO 5579 | Non-destructive testing – Radiographic testing of metallic materials using film and X- or gamma rays – Basic rules |
| DIN EN ISO 17636-1 | Non-destructive testing of welds – Radiographic testing – Part 1: X- and gamma-ray techniques with film |
| DIN EN ISO 10675-1 | Non-destructive testing of welds – Acceptance levels for radiographic testing – Part 1: Steel, nickel, titanium and their alloys |
| DIN EN ISO 10675-2 | Non-destructive testing of welds – Acceptance levels for radiographic testing – Part 2: Aluminium and its alloys |
| DIN EN 12681-1 | Founding – Radiographic testing – Part 1: Film techniques |
| ASTM-E 155 | Standard Reference Radiographs for Inspection of Aluminum and Magnesium Castings |
| ASTM-E 192 | Standard Reference Radiographs of Investment Steel Castings for Aerospace Applications |
| ASTM-E 446 | Standard Reference Radiographs for Steel Castings Up to 2 in. (50.8 mm) in Thickness |
---
For magnetic particle testing (MT)
| | |
| --- | --- |
| DIN EN ISO 9934-1 | Non-destructive testing – Magnetic particle testing – Part 1: General principles |
| DIN EN ISO 17638 | Non-destructive testing of welds – Magnetic particle testing |
| DIN EN ISO 23278 | Non-destructive testing of welds – Magnetic particle testing – Acceptance levels |
| DIN EN 1369 | Founding – Magnetic particle testing |
| DIN EN 10228-1 | Non-destructive testing of steel forgings – Part 1: Magnetic particle inspection |
---
For penetrant testing (PT)
| | |
| --- | --- |
| DIN EN ISO 3452-1 | Non-destructive testing – Penetrant testing – Part 1: General principles |
| DIN EN ISO 23277 | Non-destructive testing of welds – Penetrant testing – Acceptance levels |
| DIN EN 1371-1 | Founding – Liquid penetrant testing – Part 1: Sand, gravity die and low pressure die castings |
| DIN EN 1371-2 | Founding – Liquid penetrant testing – Part 2: Investment castings |
| DIN EN 10228-2 | Non-destructive testing of steel forgings – Part 2: Penetrant testing |
---
For metallographic analysis, metallography
| | |
| --- | --- |
| DIN EN ISO 643 | Steels – Micrographic determination of the apparent grain size |
| DIN 50602 | Metallographic inspection methods – Microscopic inspection of stainless steels for non-metallic inclusions with image series |
| ISO 4967 | Steel – Determination of content of non-metallic inclusions – Micrographic method using standard diagrams |
| DIN EN 10247 | Micrographic examination of the non-metallic inclusion content of steels using standard pictures |
| DIN EN ISO 945-1 | Microstructure of cast irons – Part 1: Graphite classification by visual analysis |
| DIN EN ISO 3887 | Steels – Determination of the depth of decarburization |
| DIN EN ISO 1463 | Metallic and oxide coatings – Measurement of coating thickness – Microscopical method |
| In-house procedure (P-504-60-40) | Quantitative metallography – Determination of phase fractions |
---
For bolts, fasteners, and nuts
| | |
| --- | --- |
| DIN EN ISO 898-1 | Mechanical properties of fasteners made of carbon steel and alloy steel – Part 1: Bolts, screws and studs with specified property classes – Coarse thread and fine pitch thread |
| DIN EN ISO 898-2 | Fasteners – Mechanical properties of fasteners made of carbon steel and alloy steel – Part 2: Nuts with specified property classes |
---