Company
We are your test centre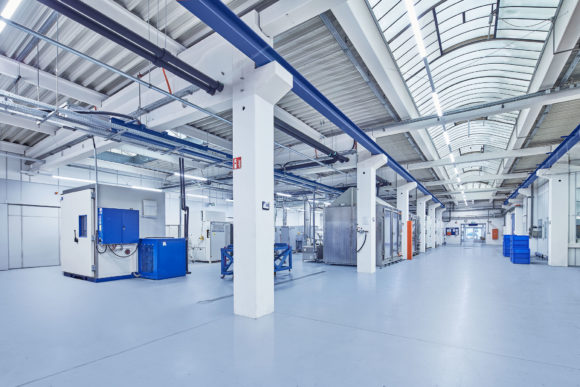 Make sure your products are safe, resilient, durable and cost-effective. We offer you all test procedures and a high level of test competence.
We test, measure, analyse and try out for you
We are an independent, medium-sized company and offer highly specialised materials testing and engineering services for all industries. RST supports developers and manufacturers from product development and market launch to quality control during production and maintenance.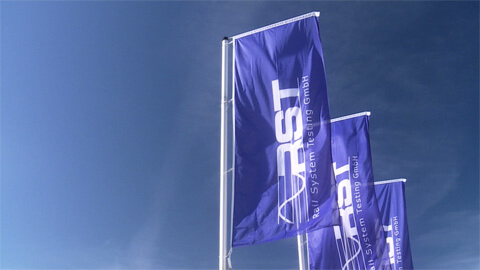 Take advantage of our expertise for...
investigations and tests of the strength behaviour of components
for tests according to GOST standards and approval procedures in Russia
Accreditation
We have extensive accreditations for the tests in our environmental, fire and materials laboratory:
Accreditation certificate D-PL-11012-01-00 according to DIN EN ISO/IEC 17025:2018
D-PL-11012-01-01 Certificate Annex English
(PDF, 8,52 MB)
Until 1990:
The origin of RST belongs to the development area of the GDR rail vehicle industry with the LEW Lokomotivbau - Elektrotechnische Werke "Hans Beimler" (LEW) at the Hennigsdorf site and the Kombinat Schienenfahrzeugbau (KSFB) at the Grünau (Berlin) site. The LEW and the KSFB with their wagon construction sites in Görlitz, Bautzen, Ammendorf (Halle), Dessau, Niesky and the supplier sites in Vetschau, Ilsenburg, Staßfurt, Altenburg and Mühlhausen set up central development-accompanying test, trial and inspection capacities for vehicle development at an early stage. After 1990, these were taken over by the successor companies of the East German rail vehicle manufacturers. The materials, calibration and environmental laboratory at the Hennigsdorf site continue to be run by the quality department of LEW and its successors until 2003.
1990:
The environmental laboratory becomes the central laboratory for environmental simulation.
1990:
The strength and fire laboratory as well as the department of vibration and driving tests are integrated into the main testing department of the DWA as a subsidiary of the Institut für Schienenfahrzeuge GmbH.
1991:
Accreditation as a testing laboratory in the field of rail vehicles in the BAM Accreditation System (BAS) of the Federal Institute for Materials Research and Testing (BAM).
1992:
The Testing Department becomes a testing laboratory for rail vehicles. It also receives BAS accreditation and comprehensive recognition of all system-relevant testing services by the Federal Railway Authority (EBA).
1992:
Sale of LEW to AEG by the Treuhandanstalt. The company becomes AEG Schienenfahrzeuge Hennigsdorf GmbH.
1996:
AEG Schienenfahrzeuge Hennigsdorf GmbH becomes ABB Daimler Benz Transportation.
1998:
Deutsche Waggonbau AG is sold to Bombardier Transportation.
1999:
ABB Daimler Benz Transportation withdraws from transport technology and becomes Daimler Chrysler Rail Systems.
2001:
Daimler Chrysler Rail Systems is sold to Bombardier Transportation. At the Berlin site, the Treuhandanstalt merges the KSFB operations to form Deutsche Waggonbau AG (DWA).
2001-2002:
Bombardier Transportation launches the Technologie Zentrum Bahntechnik (TZB) project and outsources its test laboratories.
2003:
RST Rail System Testing GmbH (RST) is founded on 1 April; the company headquarters is the "Blaue Wunder" at Neuendorf Strasse 23 in Hennigsdorf.
2003:
Bombardier Transportation sells its testing laboratories to RST on 1 July. In addition to the testing technology, 40 technicians and engineers are taken over. Testing operations continue without interruption at the Hennigsdorf and Berlin sites. RST obtains all the necessary accreditations.
2004:
Bombardier Transportation discontinues the Rail Technology Centre (TZB) project. This means that central orders promised for the foundation of RST are no longer valid. RST expands its service portfolio to include automotive engineering, industrial plant engineering and automation technology.
2005:
IMA Materialforschung und Anwendungstechnik GmbH (now Applus + Laboratories) in Dresden acquires shares in RST. RST closes its Berlin strength laboratory for testing car bodies and bogies. IMA Materialforschung und Anwendungstechnik GmbH takes over the testing technology of the strength laboratory. The testing of bogies and car bodies is now continued at Applus + Laboratories and at IABG Industrieanlagen-Betriebsgesellschaft mbH at the Dresden location. RST concentrates on materials, environmental and fire testing as well as calibration services at three locations in Hennigsdorf.
2006:
Relocation of the company headquarters to Philipp-Pforr-Straße 10 in Hennigsdorf, to which the fire laboratory also moves.
2007:
RST's range of services is expanded to include tests for photovoltaics.
2009:
The calibration laboratory is sold to Exova METECH GmbH (today Element Metech GmbH), RST focuses on environmental, fire and material testing, the fire and environmental laboratory are expanded.
2014:
The three previously separate testing laboratories are merged at the new company location at Walter-Kleinow-Ring 7 in Hennigsdorf.
2017:
RST is designated by the IMO as a test centre for the IMO Resolution MSC - 307(88)-(FTP-Code 2010).
2018:
RST is recognised by the KBA as a Category A technical service.
2020:
RST becomes independent, management takes over 100 percent of the business shares.