What is climate testing?
We carry out climate tests in the categories of damp heat (cyclical and constant), climate change tests, condensation tests (cyclical and constant) and negative pressure tests. We can simulate the use of your products in a variety of environments - from the rainforest to Mount Everest.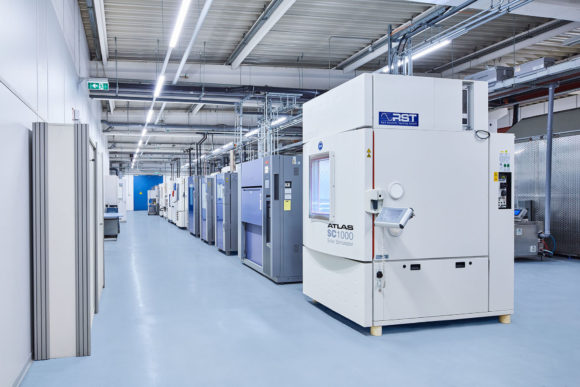 Range of services of our climate test laboratory
In our climate test laboratory, we can simulate the worldwide use of your product under different environmental conditions. In the partially accessible climate chambers with a volume of up to 18 m³, we can simulate tropical climates or the climate in the Himalayan mountains. In our climate chambers and cabinets, conditions in the temperature range between -70 °C and 180 °C are created. In our facilities, we can vary the relative humidity between 10 per cent and 98 per cent.
In the flexible test facilities, our experienced engineers can simulate extreme situations such as condensation or icing on your test sample. Our climate test laboratory also enables us to test ageing and corrosion processes. Within the framework of laboratory weathering, we can also carry out condensation tests for the precise detection of corrosion protection defects. In order to also test the change in air pressure due to altitude, we use a temperature-controlled negative pressure chamber. This enables us to simulate an altitude of around 18,000 metres above sea level with a defined rate of ascent and descent.
In our climate test laboratory, we also have a wide range of modern and particularly precise measuring techniques at our disposal. Thus, we can take over detailed parameter monitoring for you - before, during and after the test.
Test lexicon
In the following table you will find some abbreviations for standardised test methods.
| | |
| --- | --- |
| Abrevation | Meaning |
| Cab | Damp heat, steady state (preferably for appliances) |
| CH | Condensation atmosphere, steady state |
| AHT | Condensation atmosphere with alternating climate (alternating temperature and humidity) |
| AT | Condensation atmosphere with alternating climate (alternation of humidity) |
| Db | Damp heat, cyclic |
| Z/AD | Composite test, temperature/humidity, cyclic |
| M | Low air pressure |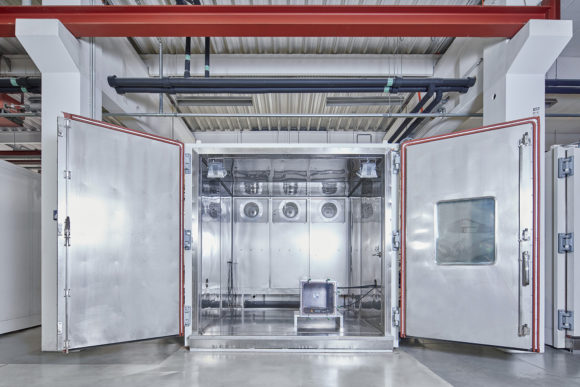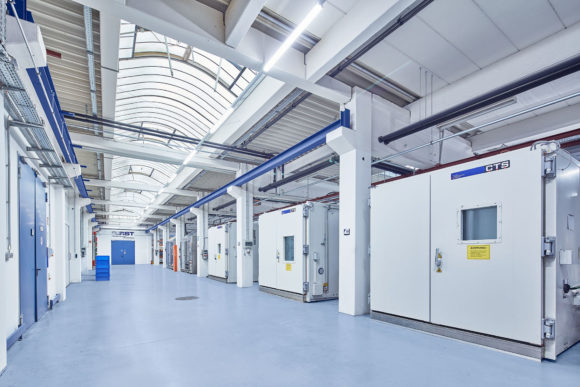 What are the advantages of climate testing?
Through climate testing, we can identify possible weak points in your product at an early stage and eliminate them in the product development phase. By testing different climatic influences, insights into service life, corrosion and other system limits can be gained and deficits can be eliminated. Take advantage of our climate tests - and strengthen your customer loyalty and position on the market through product improvements!