What is damage analysis?
Damage analysis is used to clarify the technical failure of parts or components. The task of damage analysis is to check damage with suitable methods, to record the cause of damage in an evidential manner and to examine the required material properties. Damage analysis includes the following tests:
Non-destructive testing: Documentation of the damage or the spread of the damage as well as possible, not yet recognised further areas of damage.
Macrofractography: Documentation of the fracture surface using a stereomicroscope to show macroscopic fracture characteristics. This can be used, for example, to determine the fracture initiation area and the direction of crack propagation.
Microfractography: Documentation of the fracture surface using a scanning electron microscope to investigate the type of fracture (fatigue fracture/forced fracture) and surface anomalies such as notches in the crack initiation area.
Mechanical examinations: Clarification of material conformity with the corresponding standards or drawing specifications.
Chemical analyses: clarification of material conformity with the corresponding standards
Metallographic examinations:

Clarification of the material conformity with the corresponding standards with regard to microstructure, grain size, inclusions, porosities, coatings.
Visualisation of the crack edge to examine the course of the damage and conspicuous features in the course of the crack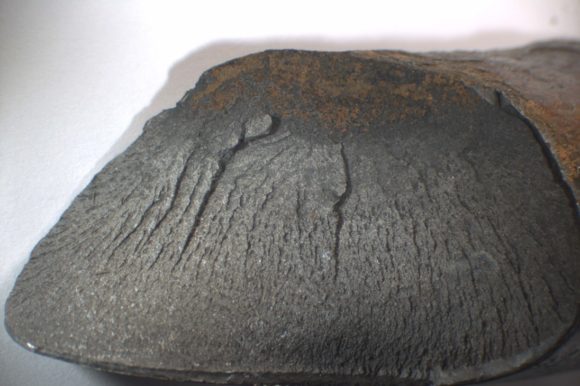 Range of services of our materials testing laboratory
Our materials laboratory has the testing devices and equipment to carry out the various tests in the field of materials testing and analysis.
Test lexicon
In the following table you will find some abbreviations for the terms mentioned.
| Term | Meaning |
| --- | --- |
| Crack start | Area on a component where the crack started |
| Crack progression | Area between crack start and crack end |
| Direction of fracture | Orientation of crack growth |
| Fatigue fracture | Occurs when the component is subjected to frequently repeated loads of the same type over a long period of time. It can also occur when the individual loads are below the tensile strength of the material. |
| Forced fracture | Can be triggered by different stresses, such as tensile stresses, compressive stresses, bending stresses or torsional stresses. |
What are the advantages of damage analysis?
The most important goal of damage analysis is to determine the direct cause of a material damage, which often results in a multitude of consequential damages. Damage cases often entail considerable costs, e.g. through necessary shutdowns, replacement or further non-destructive testing. The damage analysis helps to clarify the responsibility for the damage. For example, you can find out whether damage was caused or encouraged by the manufacturer or operator. Use our damage analysis and gain knowledge about how damage occurs, its cause, and how it can be avoided!
---
Are you in need of a damage analysis?
We would gladly support you. Contact us for testing.
---